In this EPIC iPad Pro review, benchmark, camera and 4k video editing test – I am going to give you my impressions of the new iPad Pro as well as some camera and video samples – but first let just get three things out of the way right now, as it is pretty much all other iPad Pro reviews I've seen today talk about:
Yes this iPad is big – it's meant to be big – and this is a good thing.
And yes, the iPad Pro is insanely expensive and I encourage you to think long and hard about whether you need the iPad Pro over the iPad Air 2.
And thirdly – the Smart Keyboard and Apple Pencil are awesome – but are not essential to get the most out of the iPad Pro – and push the price up to rival a 13" Macbook Pro with Retina display which is pretty ridiculous. I wanted to have both for this review but they are unavailable in Australia with a shipping time of 4-5 weeks – I did however get to play with the display models at the Apple Store today but they didn't have any stock to sell.
With that out of the way – let's unbox this beast.
iPad Pro Review: Unboxing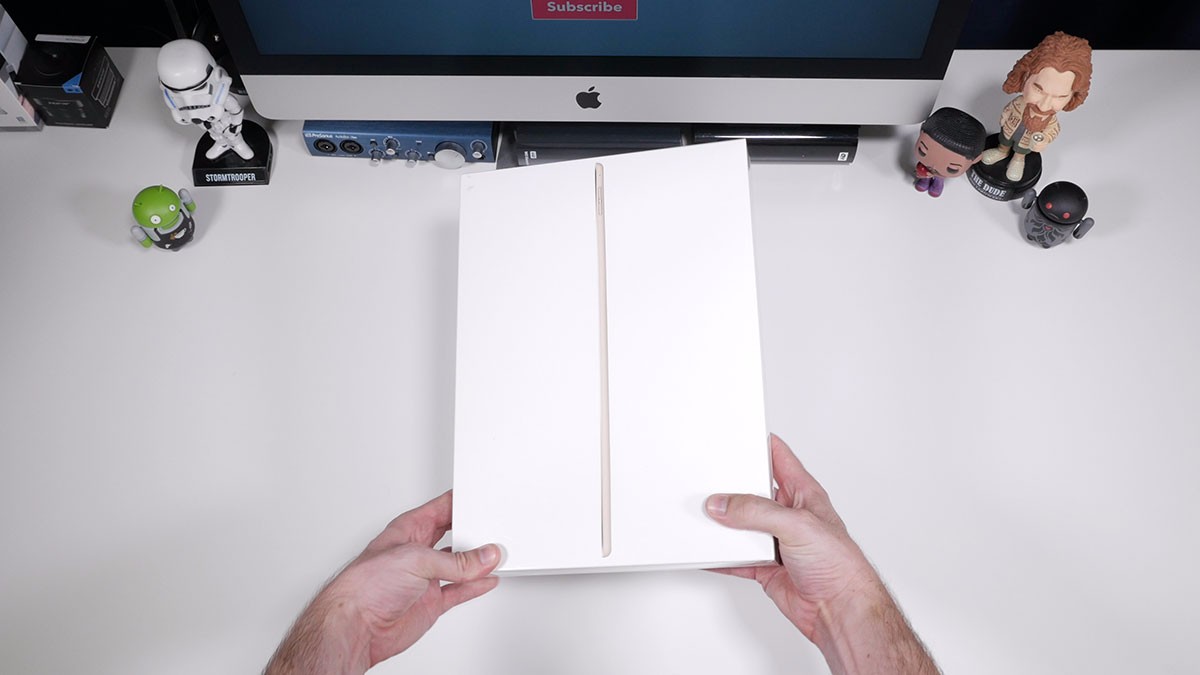 Just your typical understated Apple packaging that looks great!
The iPad Pro comes in Apple's signature understated yet beautifully designed packaging with iPad Pro written on the back and sides – just incase you couldn't tell by the size of the box what's inside. I picked up the Gold iPad Pro 128gb model and recommend you don't skimp on storage but I will explain why later in this video.
Inside the box is the iPad Pro with a nice tab to lift it up – the longest Lightning to USB charging cable Apple have ever shipped – clearly because nothing says PRO like an extra long cable – the usual booklet with quickstart guide and two Apple stickers and a 12w charger.
At 713 grams – the iPad feels noticeably weighty compared to the iPad Air 2 and is 8mm thicker – but still light for its size – and includes the new SMART CONNECTOR on the SIDE and Stereo Speakers on both the top and bottom – but more on these later. Everything else is pretty much the same as the iPad Air 2 including the touch sensor home button – which means it looks beautiful – feels incredibly luxurious and almost makes you forget that you spent a small fortune on it – the key word being 'almost'.
iPad Pro Review: The Display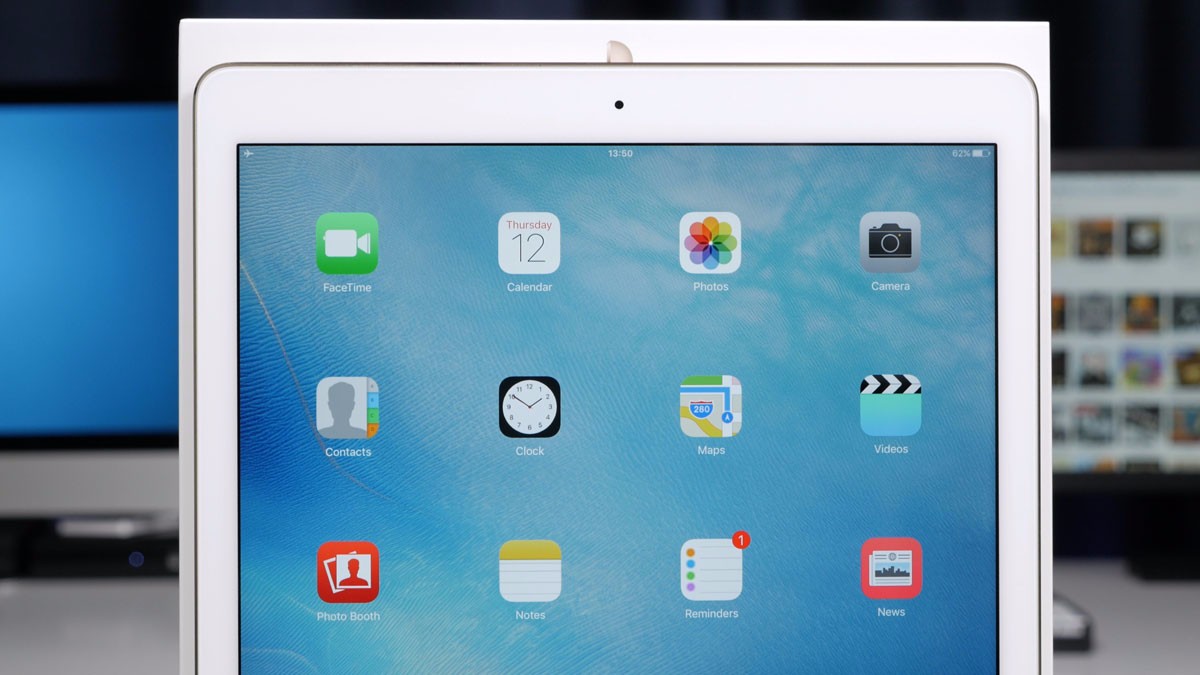 After booting this thing up – I was really impressed with the quality of the Retina Display which has a resolution of 2732 by 2048 pixel density of 264 pixels per inch which is less than many flagship Android smartphones – but pixels aside the display still looks great with nice contrast and beautiful colour reproduction.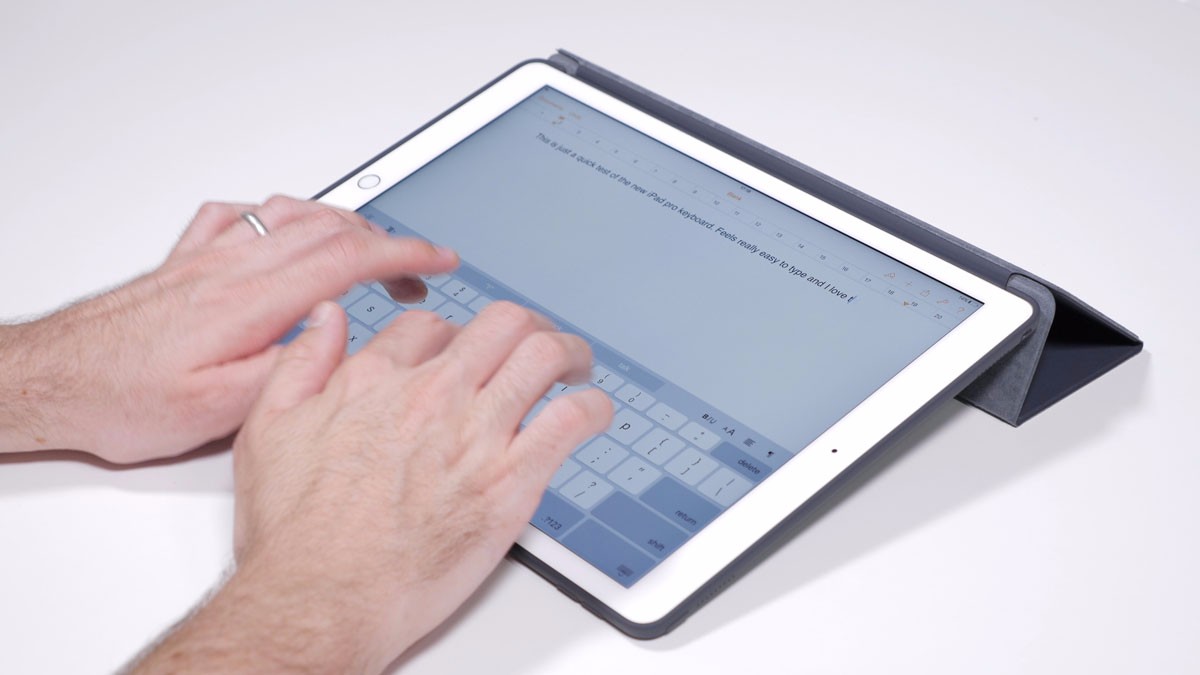 Two of the biggest perks of have a larger screen is the beautiful full screen iOS keyboard which gives you a number pad along the top as well as quick access to formatting options in apps like Pages. Even without the Smart Keyboard cover – I can type quicker and more accurately on this than on previous iPads so we are winner there. And finally multi-tasking feels like an integral part of iOS now – rather than a kind of useful but rarely used feature on my iPad Air 2.
iPad Pro Review: The A9x Chip – Fast as S#*T!
The iPad Pro is rocking Apple's latest and greatest A9x chip and if you thought the iPhone 6s was fast – the A9x blows it – and the A8x found in the iPad Air 2 – out of the water. This is seriously the fastest touch device I have ever used on any OS – and when coupled with the whopping 4gb of RAM in the iPad Pro – this is by far and away the most impressive part of this tablet.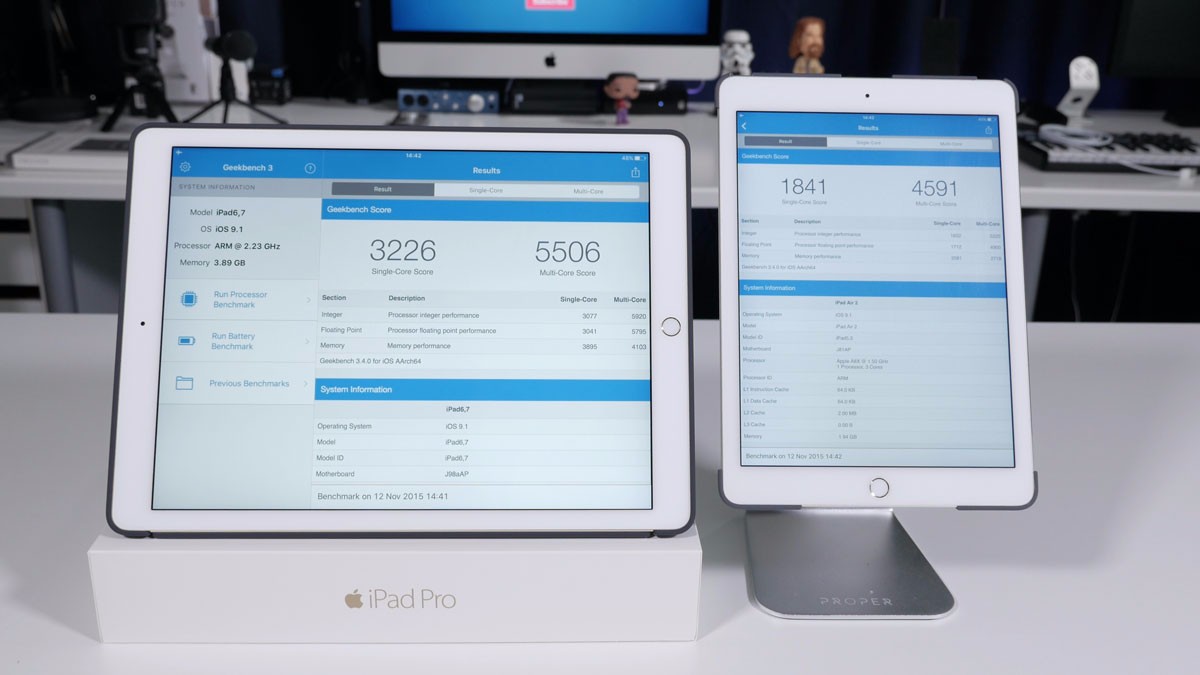 To give you an idea of just how much faster the A9x chip is over the Air 2's A8x chip – the iPad Pro starts up in just 15 seconds vs 41 seconds on the iPad Air 2. The iPad Pro annihilated the Air 2 in it's GeekBench score getting a multi-core score of 5,506 vs the Air's still impressive 4,591 and it was the same story with the 3DMark Test: The Pro scored a staggering 33,937 on Ice Storm Unlimited vs the Air 2's respectable 21,996. But you don't need test numbers to know that the iPad Pro is lightning fast – the entire user experience is just so much faster, whether it is launching apps – multitasking in split screen view – switching between apps or editing and rendering 4k video. The iPad Pro makes my iPad Air 2 feel like a slug.
iPad Pro Review: Speaker Quality Rocks!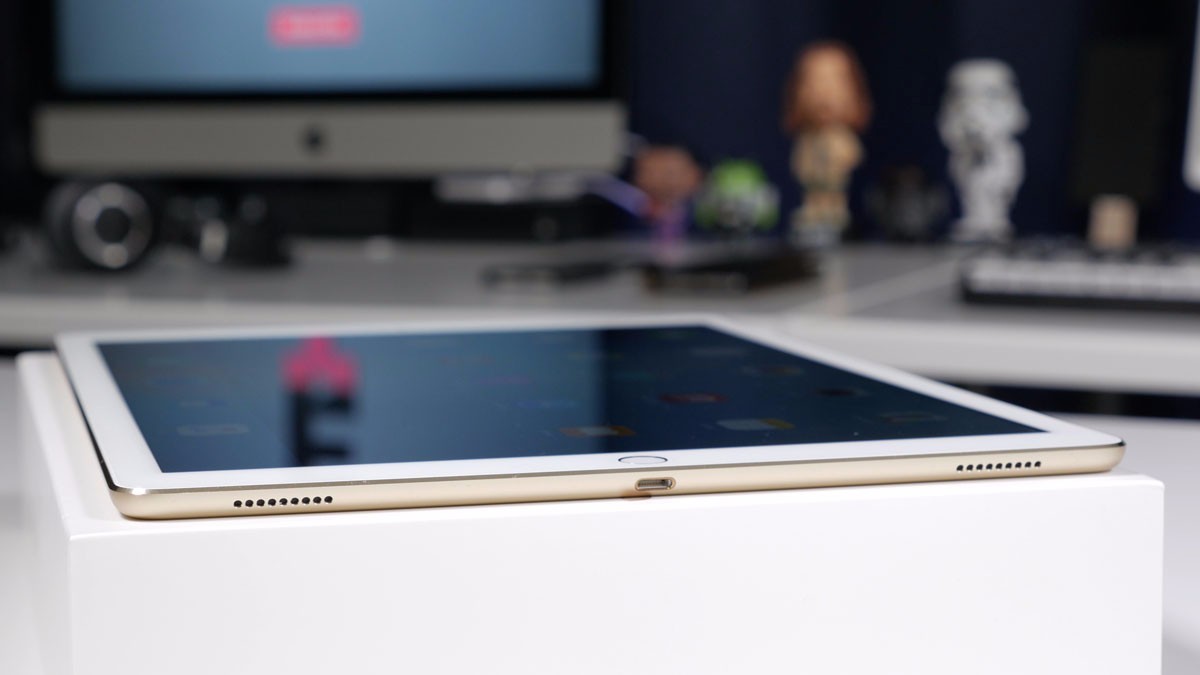 Another massive improvement found in the iPad Pro is in the speaker quality. Finally Apple is taking sound seriously and the four stereo speakers located on the top and bottom of the device sound really, really good – even cranked up to full volume which is pretty damn loud.
I was quite happy to watch Netflix without reaching for my headphones which is a first, and it makes for a much better music production and audio editing experience on the device.
iPad Pro Review: Battery Life
The battery life is also improved with Apple quoting 10 hours for web browsing but I got more like 7 with the screen brightness cranked and running more demanding apps like GarageBand, iMovie and Pages and Keynote – still not too shabby.
iPad Pro Review: The Camera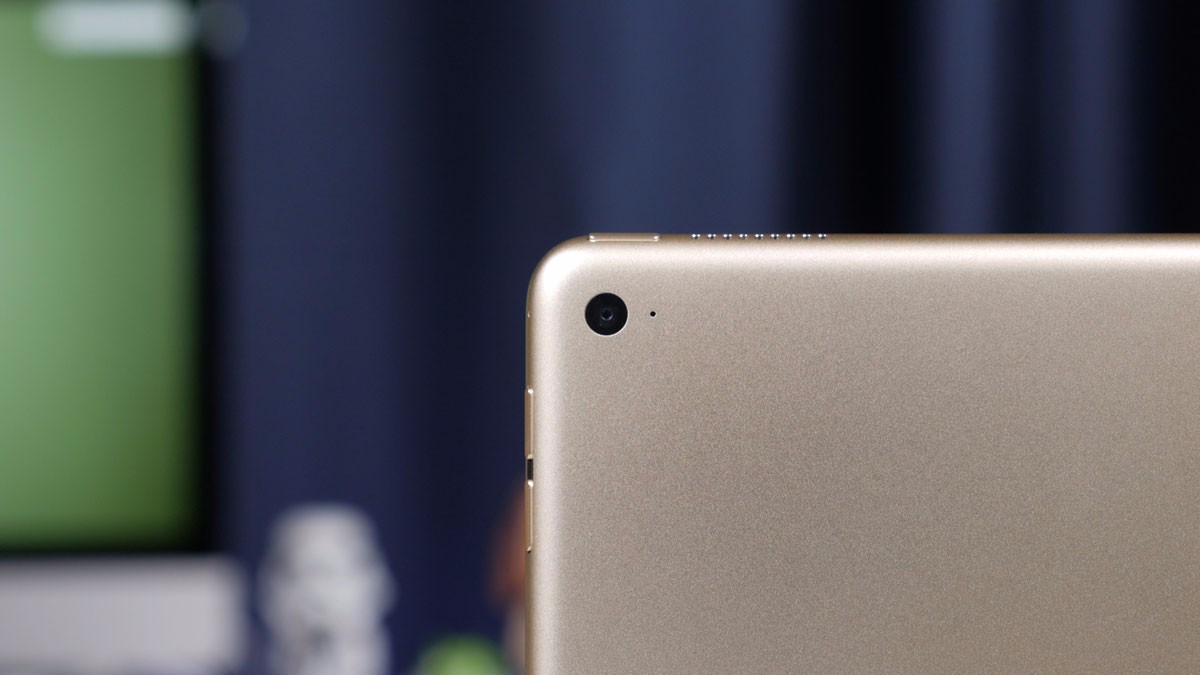 Lastly, I want to talk about the 8mpx iSight Camera in the iPad Pro. Whilst this device really is too big to feel like taking out and about to get the odd pic or video here or there – the quality is pretty impressive for both stills and video and is almost on par with the iPhone 6 under well lit daylight conditions. It only shoots 1080p video – not 4k like the iPhone 6s Plus – which is a shame as it can edit 4k beautifully – but you can get quite a lot out of it using Filmic Pro at 50mbs per second.
The real let down is the front facing FaceTime camera which is limited to 720p and just 1.2mpx for stills so you won't be feeling like taking any selfies on this – and for the price I expected more from Apple – who are really losing out to Samsung in the front facing camera realm.
iPad Pro Review: So who is the iPad Pro actually for?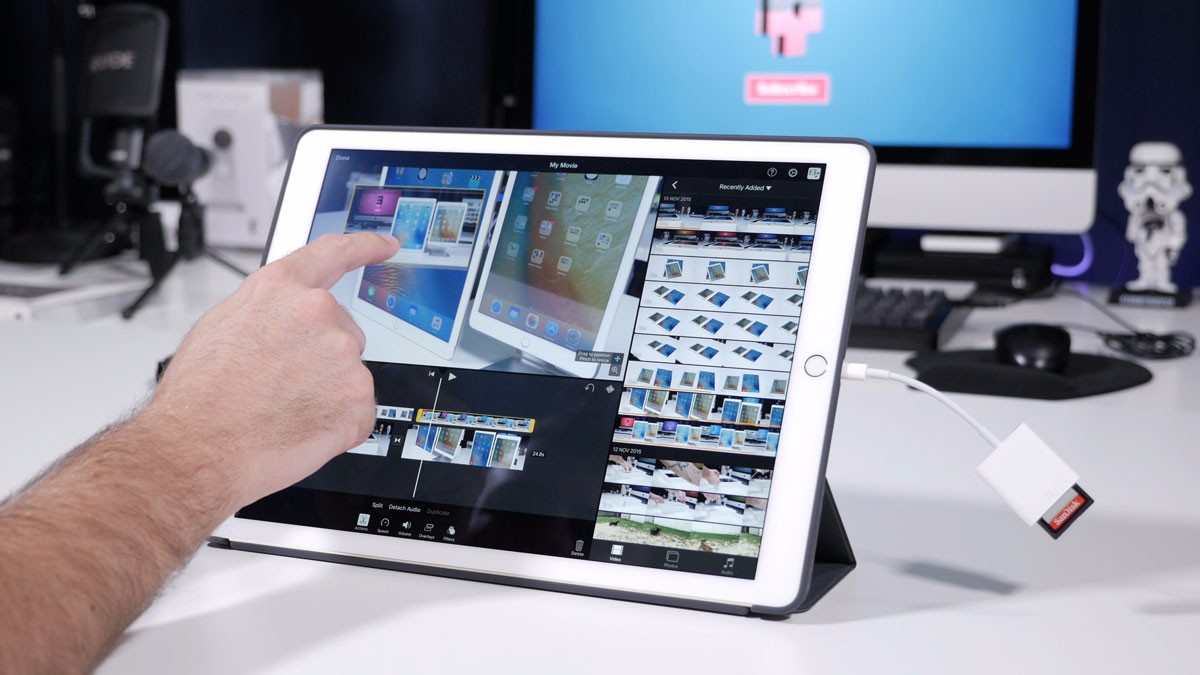 So who is the iPad Pro for, and where does it excel? I think the iPad Pro is the ultimate touch device for mobile content creators and is best suited for HD and 4k video editing, graphic design, photo editing and music production – and I really see this as complimenting – not replacing the iPhone 6s and 6s Plus which is of course a much better capture device – especially for stills and 4k video due to it's superior sensor, resolution and portability.
To give you an example of how I use the iPad Pro as mobile filmmaker and how this device excels – I shoot my 4k video on either a Panasonic GH4 or GX8 DSLR, or on my iPhone 6s Plus – both of which can then be connected directly to the iPad Pro via either Apple's SD card reader or the USB to Lightning adaptor which allows you to plug your iPhone in directly and import the footage to the Photos app. From there you can edit your film in fully 4k using either iMovie or Pinnacle studio – and I have to say I was amazed at how smooth editing full 4k footage is on the iPad Pro. It was much faster than using a Macbook Pro without an SSD – and I can work with multiple streams of 4k at 100mbs in iMovie without it breaking a sweat. This was the biggest surprise for me with the iPad Pro – and having the increased screen real estate and extra grunt has huge implications for mobile filmmakers and journalists, as well as designers and musicians.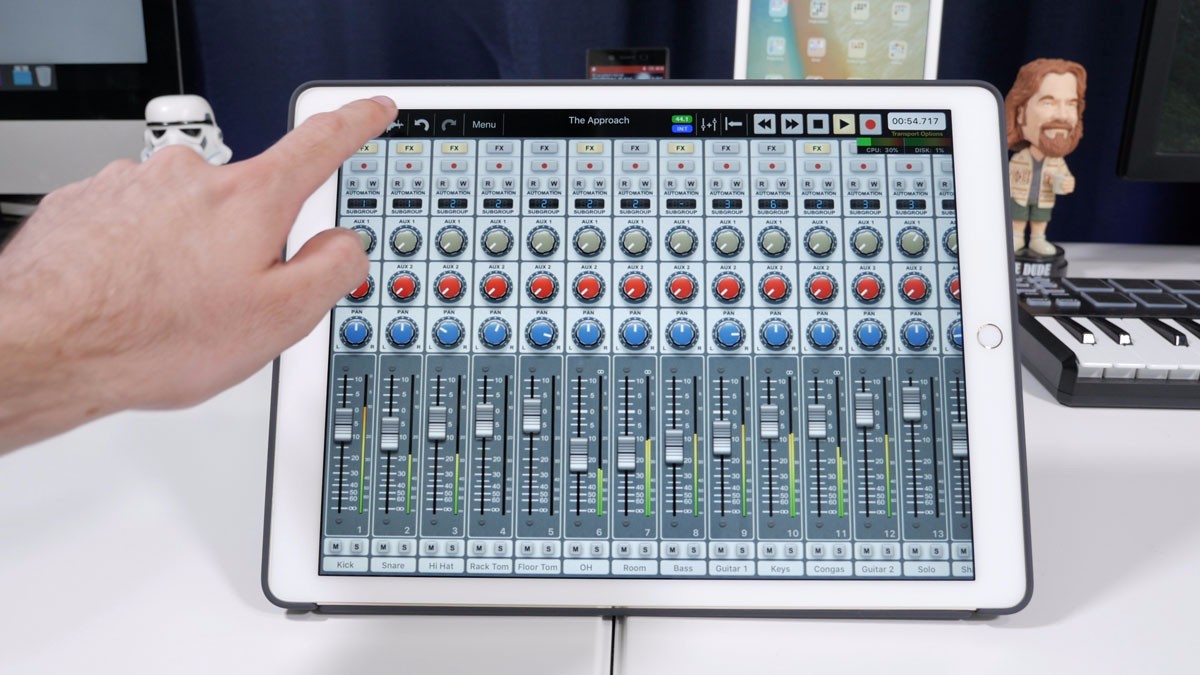 I'm going to be releasing reviews of the iPad Pro as an exclusive filmmaking device and music production tool soon so subscribe for those as I have just scratched the surface with this video – and if this helped you out please share and like and check out our other videos and let me know what you think of the iPad Pro in the comments below.

Conclusion
I honestly didn't think I would keep the iPad Pro over the iPad Air 2 - especially as it costs so much more, but after just a full days use putting it through its paces, I just can't go back the iPad Air 2 which is now hours away from appearing on Ebay. The capability of the iPad Pro as a content production device justifies the word 'Pro' in my opinion - despite originally thinking it was just a marketing gimmick. I never thought I would be editing native 4k video so smoothly directly on my iPad and music production is just so much easier and enjoyable with the bigger screen. The A9x chip is blazing fast and the 4gb of RAM offers incredible multi-tasking performance. If you just want to consume media - don't bother with the iPad Pro - if you want to create media - then you won't be disappointed. Lastly, the rear iSight 8mpx camera is good - but over the iPad Pro is let down by a poor 1.2mpx 720 front facing camera which falls well behind the competition.